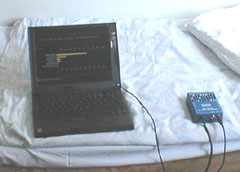 In Oulu, local pranks competitions are held annually. Our guild's team has usually ranked at the top among pranksters. In 2007 and 2009, SIK was awarded as the best in the local prank competitions.
The purpose of the pranks competition is to create humorous engineering-themed stunts around the city. The local pranks competitions organized by the Oulu Engineering Students' Association usually take place just before May Day.
Some of our guild's recent pranks include: Nuclear Power Meter (1999), Baby Crying in a Storage Locker (1999), Fog on the Market Square (2001), Cheap Beer from Halpa-Halli (2001), Microwave Radiation Measurement (2002), Bold Sex in a Tent (2002), and Band-Aid for Treating Burns (2007).
Additionally, the Oulu Engineering Students' Association has been organizing freshman pranks competitions since 2005. These also typically happen before May Day, and our guild has always managed to find a team to compete in these contests. We achieved victory in this category in 2009.
The Association of Finnish Engineering Students (TEK) organizes national pranks competitions every year, with one team participating from each engineering student city. Generally, as in Oulu, the winner of the local pranks competition gets to represent their city in the national competition. The competitions award the Teekkari Prankster of the Year and usually recognize the best prank and the most technical prank as well. You can find more information about the national pranks competitions at:https://www.tek.fi/en/services-and-benefits/students/teekkari/jayna-culture
Thanks to the success in the local pranks competitions, SIK had the honor of representing Oulu in the national pranks competitions in the fall of 2007. The team brought home the title of the best prank for their waste energy prank. The prank involved measuring the waste energy evaporating from people using a sophisticated device. Participants were told that waste energy contributes to climate change, and they tried to prevent it using aluminum foil.
For more information, visit https://www.jayna.fi/en/participate